Services
Web design is more than creating a site that is fresh and appealing. Any web site that is to become successful needs to be intuitive and easy to use.
I offer a wide range of services from advanced intranet applications to eCommerce solutions to simple HTML & CSS projects all using a custom built CMS.
Search engine optimization (SEO) is the process of improving the volume or quality of traffic to a web site from search engines via "natural" search results.
Portfolio
What HI-FI awards 2008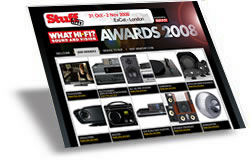 The What Hi-Fi? Sound and Vision Awards have been the Oscars of the home entertainment industry for 27 years, and now, for the first time, readers could vote online. Voting has now closed and the site has now moved on to list the results of the awards. This microsite has a MYSQL database collecting the votes and powering the content.

Who is Daniel Scott?
A multi-talented internet application developer.
Offering the full web package of: web design, front-end development, back-end development, search engine optimisation.
Web Design
Web design is usually the first stage of a project. At this point, the project is not a web site at all, but layers of pixels within a graphics package. The first goal to achieve at this stage is to create a design with visual appeal. For most web designers, once they have produced an appealing design their job is done. My philosophy is, the design is only a job half done. A web site that is truly successful needs to meet all the following:
Clearly shows what your company has to offer
If the company offers a large number of products/services the most important should be prominently displayed
The site's navigation(s) need to be intuitive
Points of contact need to be clearly visible
Points of sales need to be simplistic and intuitive
Site should not be cluttered with useless or marginal information
Text should be inviting to read